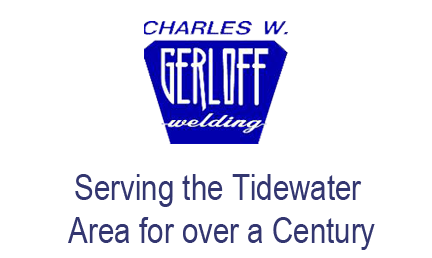 In 1904, Charles W. Gerloff, an employee of the American Brazing Company, agreed to purchase the ailing Norfolk, Virginia facility. This was the beginning of four generations of family welders. In the early days, Charles traveled from shipyard to shipyard in a mule-drawn cart carrying an acetylene torch to weld steel.
In the late 1930s, Charles W. Gerloff Jr. took over the business. During World War II, he ran a welding school to fill the need for welders at the shipyards. Two decades later, in 1959, Frank Gerloff took over the family business. And now, Frank's son, Joseph (Joe) P. Gerloff runs the company.
"I remember as a child the pride my father took in pointing out all the things around the city that he had built . I feel that same pride now and brag to my two sons. When we were old enough, my brother and I started working for the company. My brother retired in 2012 after working for more than 40 years.
In 1986, Joseph purchased the company from his father and mother and continued the legacy as the head of the company. In 2000, his mother retired as office manager and his wife, Cindy, stepped in to fill the vacancy. His nephew also worked at the shop for ten years making him the fifth generation to work in the business.
Following two world wars, the great depression, and many more recessions, Gerloff Welding has endured for more than four generations of family ownership.
The company's original location was at 430 Water Street, then Norfolk's bustling business district. Redevelopment of that area in the late 1950s forced the company to relocate in 1960 to the then new 2622 Cromwell rd. ,our current location.